Home (current page)
Welcome to the repair of household appliances

My name is Sergey Tutynin, is pleased to welcome you on its website. A little about yourself:
I repairman audio, video, home appliances. Length of service in 1979.
Since 2002, I am an entrepreneur (business entity, individual). I have extensive experience of working in an authorized service center for repair of audio, video, home appliances (evidenced by certificates, which can be found at the bottom of the page). At this time, with a team of masters, doing repairs of household appliances in Kiev, the home of the customer. Each master is personally responsible for the work performed.
We produce the following types of repair of household appliances:
,
,
gas and electric cookers, hobs and ovens,
and gas water heaters,
,

and refrigerated display cases, microwave ovens, as well as, install and
.
Masters have years of work and certified by the manufacturers of home appliances.
Master travels to all parts of Kiev: Lesnoj massiv, Troeshchina, Raduzhniy, Harkovskij, Obolon, Podol, Pozniaky, Levoberezhnaja, Osokorky, Nyvky, Svyatoshino, Akademgorodok, Karavaevy Dachi, Borshchagivka, Industrialnyj most, Shuliavka, Solomyanka, Dorohozhychi, Lukiyanobskaya, Center , Vidubichi, Darnica, Rusanivka
If you are looking for an authorized (warranty) service, you can safely leave this page and continue the search.
If you need a qualified technician for repair of household appliances, you can call the phone numbers listed above or by clicking the "помощь онлайн", ask a question, in the mode of "OnLine".
Online challenge to master. Consultations.
In online mode, you can cause the household appliances repairman or get advice.
Online help is not available since you don't have Java enabled.
At the bottom of the page, you can see the certificates for repair and maintenance of household, audio, video technics.
Certificate refrigerator repair Stinol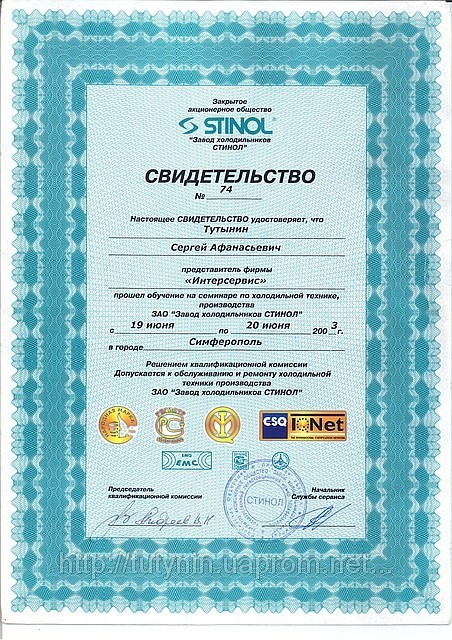 Closed
Joint-Stock Company
Stinol
Refrigerator factory STINOL
Certificate №74
This certificate testifies that
Tutynin Sergei Afanasevich
representative of "Interservice"
was trained at a seminar on refrigeration,
produced by CJSC "Plant refrigerators STINOL"
from June 19 to June 20, 2003.
in the city of Simferopol
Qualifications Commission decision
Admitted to the maintenance and repair of refrigeration
machinery manufacturing
CJSC "Plant refrigerators STINOL"
Qualification Commission Chairman /signature/
Chief of the service /signature/
Certificate of repair of plasma and LCD TVs Panasonic
Panasonic
Technics
CERTIFICATE
Tutynin Sergei Afanasevich
firm TOM Service
Successfully completed a course of training,
organized by Panasonic CIS Oy
Repair and maintenance
PDP and LCD TVs Panasonic 2009 models.
Kiev
January 20, 2010
Instructor V. Skok
Instructor A. Shalabanov
Certificate of repair of microwave ovens LG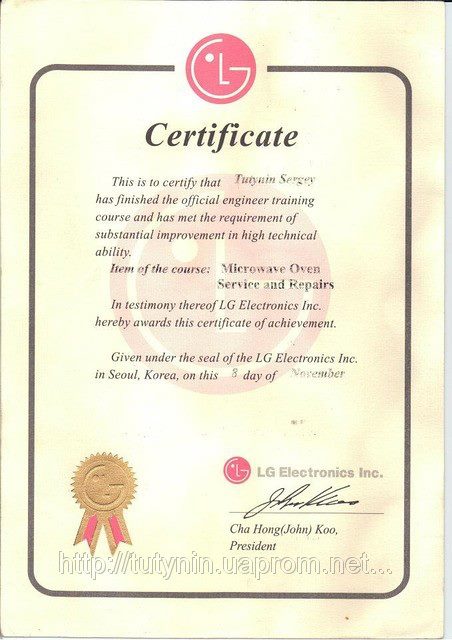 Certificate
This is to certify that Tutynin Sergey
has finished the official engineer training
course and has met the requirement of
substantial improvement in high technical ability.
Item of the course: Microwave Oven
Service and Repairs
In testimony thereof LG Electronics Inc.
hereby awards this certificate of achievement.
Given under the seal of the LG Electronics Inc.
in Seoul, Korea, on this 3 day of November
Cha Hong (John) Koo.
President
Certificate of repair Samsung Monitor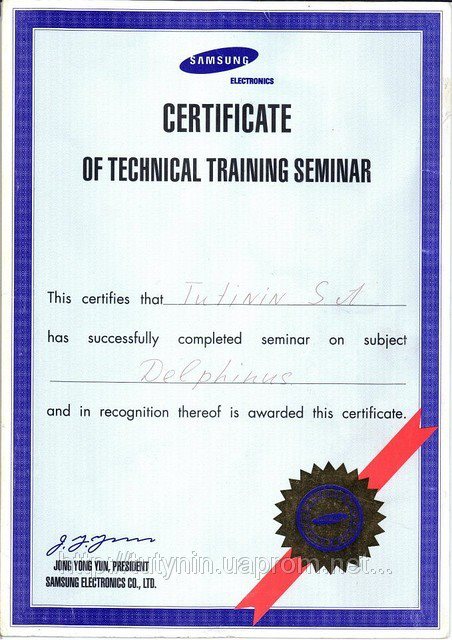 CERTIFICATE
OF TECHNICAL TRAINING SEMINAR
This certifies that Tuninin S. A.
has successfully completed seminar on subject
Delphinus
and in recognition thereof is awarded this certificate
PRESIDENT
SAMSUNG ELECTRONICS CO., LTD
Certificate management accounting system warranty repairs Panasonic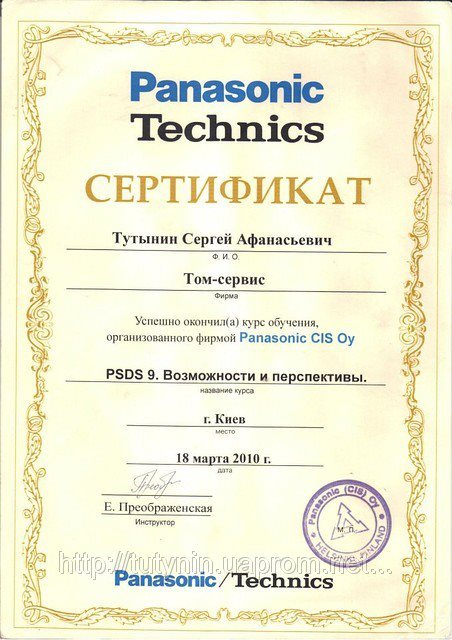 Panasonic
Technics
CERTIFICATE
Sergei Tutynin
TOM-service firm
Successfully completed a course of training,
organized by Panasonic CIS Oy
PSDS 9. Opportunities and Prospects
Kiev
March 18, 2010
Instructor E. Preobrazhenskaya
Certificate of repair of CRT TVs Panasonic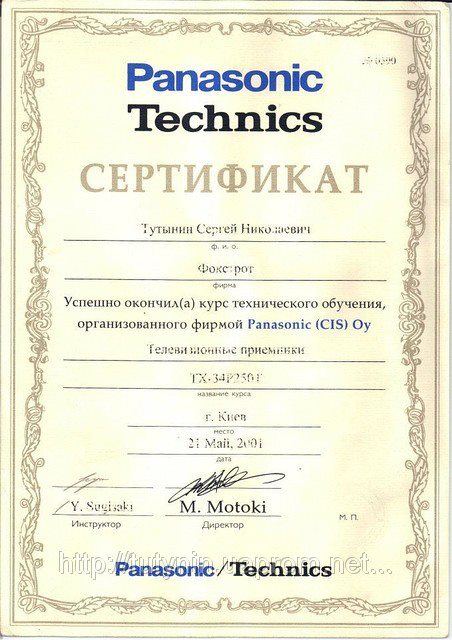 Panasonic
Technics
CERTIFICATE
Sergei Tutynin
Foxtrot company
Successfully completed a course of training,
organized by Panasonic CIS Oy
television receivers
TX-34P250T
Kiev
May 21, 2001
Instructor: Y. Sugisaki
Director: M. Motoki

Home (current page)
Logon time: 22.09.2023 04:33, IP: 34.204.172.188

Recent online/offline user's message:
Нужен ремонт телевизора, Оболонь, Киев